Top Advertising Agencies Food Brands
Top Advertising Agencies Food Brands
Published by Steph - 6th December 2022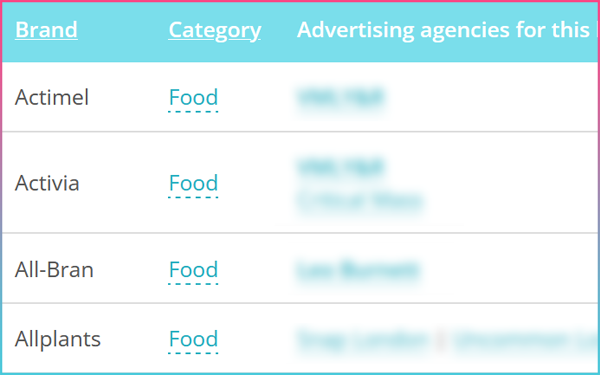 Need to find the Top Advertising Agencies working with Prestigious Food Brands such as Actimel, Ben & Jerry, Heinz, McVities, Wall's and more? Bikinilists has a comprehensive list of searchable Food Brands, helping you put your Food work in front of top Art Buyers and Creative Directors today.
Our downloadable lists contain the most important creative contacts at Advertising Agencies working with the following Food Brands:
Actimel
Activia
Critical Mass
All-Bran
Allplants
Alpro
Ambrosia
Craft WW
Anchor Butter
Anchor Dairy Products
Andros
Apetina
Arla
Associated British Foods
Aunt Bessie's
Bahlsen
Baskin Robbins
Batchelor's
Baxters Food Group
Becel
Belazu
Ben & Jerry
Ben's Original
Bernard Matthews
Betty Crocker
Birds Eye
Bisto
Blue Dragon
Blue Fuel
Bonne Maman
Bovril
Bran Flakes
Branston
Brecks Food
Burton's Foods
Butterkist
Cadbury
California Almonds
Caramber & Co
Castello Cheeses
Cathedral City
Centrum
Cheerios
Clover
Colman's
Cow & Gate
Crucial Sauce
Dairy Crest
Dairylea
Danone
Deliciously Ella
Dole Foods
Dunkin' Donuts
Ella's Kitchen
Flora
Florette
Focaccia Florist
Fox's Glacier Mints
Froneri Ice Cream
Frosties
Fullgreen
Future Farm
G's Food
Galaxy
Genius Food
Ginsters
Go Ahead
Godiva
Gold&Green
Grace Foods
Greggs The Bakers
Haagen-Dazs
Haribo
HECK
Heinz
Hellmann's
Herbalife
HI-CHEW
Holy Moly
HP Foods
Huel
Jacobs
Jaffa Cakes
John West Foods
Jordans
Juicy Fruit
Karma Kitchen
Kellogg's
Kerry Foods
Kerrygold
Kettle Chips
Kingsmill
Knorr
Kraft Heinz
Krave
La Famiglia Rana
Lay's
Linda McCartney
Lindt
Lipton
Little Moons Mochi
Lucky Charms
Lurpak
M&S Food
Maggi
Marmite
Maryland Cookies
Mattesons
Maynards Bassetts
McCain
McCoys
McVities
Merchant Gourmet
Milka
Mini Cheddars
Mizkan
Moma Foods
Montezuma's
Mr Brain's
Mr Kipling
Ride Shotgun
Mug Shot
Muller Dairy
Nakd bars
Naked Noodles
Nature Valley
Nestle
New Covent Garden Soup
New York Bakery Co
Nomad Foods
Nutri-Grain Bars
Nuud
Oatibix
Old El Paso
Onken
Oreo
Organix
Pasta Evangelists
Patak's
Peperami
Perkier
Petits Filous
Philadelphia
Pilgrim's Choice
Pip & Nut
Pot Noodle
Cake
Premier Foods
Primula
Princes
Pukka Pies
Quaker Oats
Quorn
Rachel's Organic
Rakusen
Reese's
Rice Krispies
Richmond
Rowse
Rubies in the Rubble
Rustlers
Ryvita
Sacla
Santa Maria
Saputo Inc
Sarson's
Shape Yoghurt
Sharwoods
Sheba
Shreddies
Craft WW
Silver Spoon
Soreen
Spam
Special K
Liveposter
Symington Noodle
Tangerine Confectionery
Tate & Lyle
Brave Advertising
Terry's Chocolate
The Dormen Food Company
The Natural Confectionery Company
The Tofoo Co
Thorntons
Tic Tac
Total Greek Yoghurt
Trek bars
Twix
Tyrrells
Unilever Bestfoods
Veetee Rice
Vegetarian Express
Violife
Wall's Food
Warburtons
Weetabix
Werther's Original
Wheyhey
Whitby Seafoods
WholeEarth
Yakult
Yeo Valley
Yoplait Dairy Crest
Young's Seafood
If you are a Food specialist, Bikinilists has the right contacts for you!
Get an Online Quote
Read more Bikinilists News Articles