Top Advertising Agencies Automotive Brands
Top Advertising Agencies Automotive Brands
Published by Steph - 18th March 2022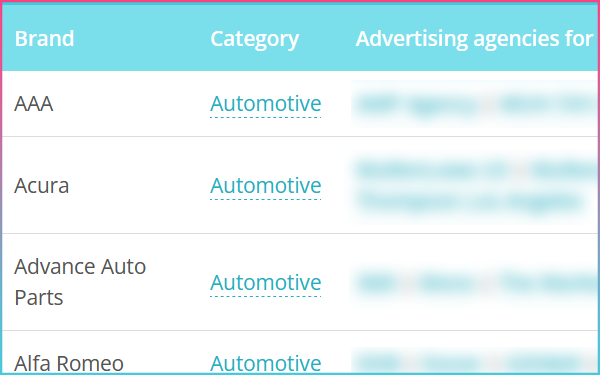 Need to find the Top Advertising Agencies working with Prestigious Automotive Brands such as Alfa Romeo, Aston Martin, Chevrolet, Lamborghini, Porsche and more? Bikinilists has a comprehensive list of searchable Automotive Brands, helping you put your Automotive work in front of top Art Buyers and Creative Directors today.
Our downloadable lists contain the most important creative contacts at Advertising Agencies working with the following Automotive Brands:
AAA
Acura
Advance Auto Parts
Alfa Romeo
Armor All
Aston Martin
Audi
AutoNation USA
AutoTrader
Bentley Motors
BMW
BorgWarner
Buick Motor Division
Cadillac
Caliber Colision
CarMax
Castrol
Chevrolet
Chrysler
Clicklane
Cox Automotive
Daimler Trucks
Dodge
Feldman Automotive
Fiat
Firestone
Gallery Automotive Group
General Motors
Genesis Motors USA
GM electric
GMC
Gulf States Toyota
Hankook Tire
Harley Davidson
Herb Chambers
Honda
Hyundai
Infiniti
Jaguar
Jeep
Jiffy Lube
Kia Motors
Lamborghini
Land Rover
Lexus
Lincoln Motor Company
Lucid Motors
MAACO
Mack Trucks
Maserati
Mazda
McLaren
Meineke Car Care
Mercedes-Benz
MINI USA
Mitsubishi Motors
Mobileye
Mystik Lubricants
NAPA AUTO PARTS
Navistar
New England Honda
Nissan
PACCAR
Penske Truck
Peterbilt
Polaris Industries
Polestar
Porsche
RAM Trucks
Renault Nissan Mitsubishi
SAIC Motor
Schumacher
Scion
Shell Motor Oil
Splash
Subaru
Summit Automotive Partners
Suzuki
Take 5 Oil Change
Tenneco Automotive
Tesla Motors
Thundertruck
Toyota
Veloz
Victory Motorcycles
Volkswagen
Volvo
Vroom
WeatherTech
Winnebago
Yamaha Outboards
If you are an Automotive specialist, Bikinilists has the right contacts for you!
Get an Online Quote
Read more Bikinilists News Articles