How Photographers use Bikinilists & LinkedIn
How Photographers use Bikinilists & LinkedIn
Published by Steph - 22nd October 2021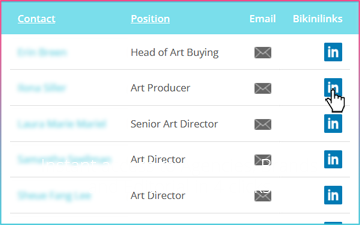 In the last 18 months we've noticed more Photographers are utilising the power of LinkedIn to build relationships with new clients.
LinkedIn is a great way to expand your network and get your work seen by more people. That's why we added LinkedIn profiles to the Photo Buyers on our database... so you can log in, start building connections and meeting new clients.
AOP Photographers can get access to this fantastic networking tool for less, with this exclusive Bikinilists package for AOP members.
Get the AOP Package Now
Read more Bikinilists News Articles