We use cookies to improve your online experience. By using this site, you agree we may store & access cookies on your device. Learn more
(917) 5464629

Bikinilists - Connecting Creatives | Home
Sign in to your account
or sign up
Welcome, we're glad you're here!
The Secret Key To A Successful Creative Career
And How Nearly Everyone Is Doing It Wrong

Quick: What's the most important part of a
successful creative career?
It's not technique (though you can't succeed without it)...
It's not a degree from a big­name school (although it couldn't hurt)...
And it's definitely not those cheap gimmicks employed by artists who sell out!
No, ask any creative professional and they'll all tell you the same thing:
It's all about relationships.


Strong relationships are the foundation for any
successful creative career
You need to build strong connections with buyers, it's as simple as that.
And yet MOST, if not nearly ALL creative people struggle with this.
It's understandable. Selling your product takes time - and energy - away from actually doing the work.
Who wants to divide their energy like that?
And there's a deeper reason, too: it's scary.  Frankly, it's terrifying!
You have to let your work be judged by others. You have to risk rejection... and nobody likes rejection. But if you want to be successful, you have to do it.
Don't worry.  Even when it seems like no one is interested, there are countless people out there that desperately need your work. Each and every one of them would love to be your next client, if only you had the chance to get your portfolio in front of their noses...
And that's where we can help you, because we make building relationships easy... really, really easy.


The Coolest Lists of Creatives in the World
We have more than 50,000 global creative types on file, across five continents.
That's more than even the most well-connected social butterfly could hope to keep tabs on!
Who are they?
These are the people that need you.
They need brilliant photographers and illustrators and they're willing to pay for what you're worth.
BikiniLists puts them right at your fingertips.

But what about you?
Our subscribers come in all shapes and sizes.  If you're a...
Photographer
Illustrator
Production Company
Stock Library
Artists' Representative
or pretty much any other type of creative human being...
Then we know people who need your work




BikiniEmail Makes it Easy
But that's not everything, of course. You've got to have a delivery vehicle for that killer portfolio, right?
Bikinilists takes all the work out of it so that you can focus on what's important: your product.
Set up an email campaign in just a few clicks, import the lists you want to use, let us proof it and bingo, you're off to the races.  Your portfolio will instantly be put in front of exactly the people who need to see it the most.
We'll even crunch the numbers for you so that you can see the impact of your campaign.
Tweak and adjust to your heart's delight, it's all laid out in front of you in BikiniEmail!
Create Stunning Layouts
Load Your Lists

Send Your Campaigns

Track Your Success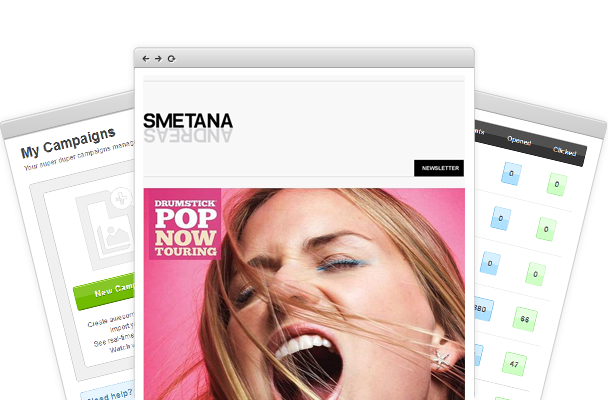 Let's Talk Business
Like what you're hearing so far? Interested in subscribing? Take a look at our pricing plans:
Bikini USA for
Illustrators
$695 p/a
Special Introductory Rate
Advertising, Graphic Design, Magazines & Publishing
Bikini USA for
Photographers
$695 p/a
Special Introductory Rate
Advertising, Graphic Design, Magazines & Publishing
Bikini USA for
Reps
$995 p/a
Special Introductory Rate
Advertising, Graphic Design, Magazines & Publishing
Bikini USA
TV & Motion
$995 p/a
Special Introductory Rate
Motion Buyers in Advertising,
Design & TV Production

A Few Things You WON'T Be Getting
Sometimes you can learn more about a company by what they won't give you than by what they will.
Here are a few things that you're never going to get from us
Useless Data: Our lists are updated daily and are famous for their near-perfect accuracy.
Aggressive Upsells: How many times have you bought what you thought was a complete product,
only to discover that you needed a half­dozen 'optional' upgrades to make it work?
Don't worry, we hate this kind of strategy just as much as you do.
The Silent Treatment: Every client is assigned a personal BikiniLists consultant to help you through the process.
Talk to us anytime, anywhere, and as much as you want!
You WILL be Getting

Instant access to Hi-Protein lists of more than 50,000 global creative contacts
A high-powered email creation tool
More tracking gadgets than you can shake a stick at.
Sweet follow-up tools that make it a breeze to
connect with your hottest leads by mail or with a friendly phone call.

Who Uses Bikinilists?
We're helping hundreds of eager subscribers connect with other creatives every day. 
Here are just a few of our clients:
Make connections.  Build a career.  Let us help you do it.
We look forward to working with you.

Sincerely
The Bikinilists Team
P.S. Have more questions?  Head on over to our FAQ for some answers

Still not convinced that BikiniLists is for you?

We have some great plans - you can get started for free, too!
What are you waiting for?